The Group
The group dates back to 1912, shortly after a book called Scouting for Boys encouraged youngsters to learn new skills. There was a group that started at the church on Yarmouth Road, who were registered as the '24th Norwich Scout Group'. Between 1914 and 1939 the group moved around and met at a number of locations, including the former Chapel Hall on Chapel Lane, Thorpe Island (opposite River Green), the rectory and a boat yard on Girlings Lane.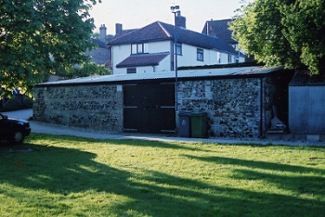 Just before World War Two, Mr. Thirkettle, a local butcher, allowed us to buy his land which is where our present den is. Back then it was a small orchard (the contents of which were picked and sold by the Rover Scouts, the proceeds being put into group funds) with a large area of marsh. It cost £100 which we paid in two instalments, one before the war and one after. The first building we had there still stands, the current Flint Boat Shed. This was an old stable which had two rooms forming a coach house and stable. In 1950, the building was converted to a single room by inserting tree trunks to support the, then tiled, roof and removing the walls and stable partitions. A brick fireplace and chimney was built to heat the room, with all the work being carried out by the Scouts and Leaders.
In 1953, we were able to purchase, for £25 (including delivery), a Nissen hut that was originally at City Railway Station (where Halford's now is on the inner ring road). The foundations were dug by hand by the Scouts and then the parents cast the base and erected the building.
In 1972, a new building was required and this is what we meet in today. The old Nissen hut was demolished by Scouts, leaders and parents in just one day, and the new building constructed shortly after. Mr. Thirkettle was shown around this new building but died before it was opened. Mr. Thirkettle wanted no flowers at his funeral, but instead asked for donations to the now 1st Thorpe St. Andrew Scout Group. Over £100 was raised which paid for the new building.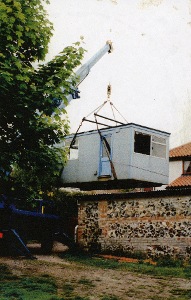 The Venture Scouts had their own building at the den, and is still at the den, now used a store.
The grounds originally consisted of a pig sty (pad foundations can be seen where the leaders park), a garage, a chicken shed and some superb fruit trees. Running across the grounds (from where Spilly's workshop is to where the neighbour's fence is), was a large dyke which collected water that ran off from Yarmouth Road. The other side (the bottom half of our grounds) were very marshy and full of trees. It was unusable. To enable us to make the most of our land, redundant buildings were removed, the dyke filled in (the surface run off pipe being diverted into the neighbour's dyke and is still used today), many trees removed and top soil replaced and grassed. The marsh dried and, as seen today, we have a large flat area we can use for activities and camps.
We have just celebrated our 100th birthday with a huge weekend camp involving all the sections out at Thetford Forest.
The Trees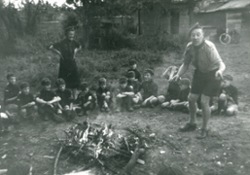 We have many trees still at our den. Sycamore, horse chestnut, hazel and two wild plum trees (red and yellow, both edible).
The tree by the den entrance is Ralph's Tree. It is a maple tree which has fantastic autumn colours. Ralph Walker (known to all by the name of Felix) was a Scout Leader and Group Leader for many years. Tully Walker, our Group President, still comes down the den and can tell many stories about the group.
Gordon's tree is a black birch. It is a young tree by the neighbours fence half way along the grounds. Gordon Slaughter was a cub leader and did a lot to help Tully with her section. He can be seen in the picture on the left.
The Animals
Our grounds are home to many different types of animals, some being very hard to spot. Many of these are only seen when you are down there alone. Sightings include: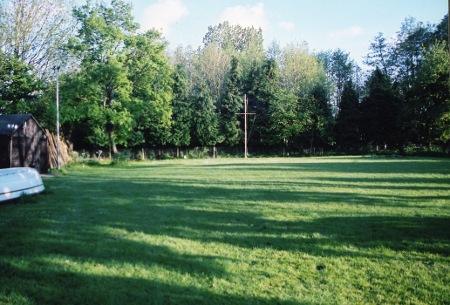 • Mice
• Fox
• Pheasant
• Various Deer (often very audible during the Summer, even with 24 kids running around)
• Grass Snakes
• Lizards
• Sparrow Hawk
• Green and Spotted Woodpecker
• Squirrel
• Blackbird, amongst many other garden birds
• Jay and Cuckoo
• Mallards and Swans
The People
The Cub Section was introduced to 1st Thorpe (then 24th Norwich) a year before Cubs was formed nationally by Hazel Adiss. She went on to be the Headquarters Commissioner for Cubs and wrote many books on Cub Scouting.
From about 1928 until his death, the Group was run by Albert "Uncle" Burrell who the present Gig is named after. The Albert Burrell (the Gig) was launched in September 1980.
We have a former Scout who is very high up in the Royal Navy and another who has kayaked along the Grand Canyon.
Many parents and grandparents who have children in the group now were once Cubs and Scouts in the group themselves!
We currently have many fantastic leaders, a small number of equally great Group Executive and a huge number of wild excitable adventurous little people!
The Future
The future depends on having plenty of adults who are willing to give up their time, and having lots of children who want to do more than sit at a computer all day. So far both of those are going well! It's a long way to go but we hope to continue our presence in Thorpe St. Andrew for another 100 years.